HEALTHY CHANGES:
4 Steps Towards Overall Health
Step 1:
Understanding Your "Total Health"
Step 2:
Make the Commitment
Step 3:
Assessment & Goals
Step 4:
ACTION TOOL RESOURCE CENTER

Mental/Emotional Health


Social Health


Spiritual Health


Physical Health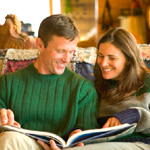 Step 4: RESOURCE TOOL CENTER
Social Health: Choosing Healthy Relationships
We all wonder about some of our relationships from time to time. Is this relationship positive? Is it worth the time I put forth? Is it wholesome and beneficial to my personal growth?
It often becomes easier when you identify what has not worked in the past and to listen to that feeling inside of you that is telling you that something just isn't right. However, many times when we are in the relationship, we put on our blinders and ignore the behaviors we said we would never put up with during our last relationship.
We must be careful to expand our definition of "relationship" beyond the romantic relationship. Look at your friendships, your relationships with family members and coworkers, etc. Are a majority of your relationships healthy? If not, what can you do to improve them?
Some relationships, such as family and coworkers, cannot be chosen, but can be improved upon. It is important to look closely at the relationships you CAN choose to see whether or not you are choosing healthy relationships. But first answer this question:
What is a Healthy Relationship?
Each person in the relationship has a truly separate identity; they each give and receive without losing their separateness. Although each person desires the other, each can survive without the other.
Each is able to talk openly with the other about matters of importance.
Each assumes the responsibility for his or her own level of happiness and refrains from blaming the other if he or she is unhappy.
If the relationship contains a sexual component, each person makes some attempt to keep the romance alive.
The two are equal in the relationship. Each person actively demonstrates concern for the other.
Each person is growing, changing, and opening up to new experiences.
Each person finds meaning and sources of nourishment outside the relationship.
Each person avoids manipulating and exploiting the other.
Each person is moving in a direction of life that is personally meaningful.
If they are married, they stay together out of choice, not simply for the sake of the children, or out of duty, or because of convenience.
Each person recognizes the need for solitude and space and is willing to create the time in which to be alone. Moreover, each recognizes the other's need for private time.
Each avoids assuming an attitude of ownership toward the other,
Each shows some flexibility in role behavior. They do not expect each other to do for them what they are capable of doing for themselves.
Each discloses himself or herself to the other, yet respects their sense of privacy.
Each person has a desire to give to the other. They encourage each other to become all that they are capable of becoming.
Each person asks for what they want and need, yet respects the others choices.
Each has a commitment to the other.
Read More:
Relationship Quiz: Santa Clara University
National Healthy Marriage Resource Center
Developing Healthy Boundaries: HealthForums.com
Related Links:

Maintain Healthy Habits with Social Support
Is Your Social Life An Asset or a Liability? Take The Social Assessment Test!
Sex, Aging and Longevity
The Wellness Wheel – the components of overall health
Building Relationships Self Help
Building Blocks of Healthy Relationships
Website on healthy relationships with very good introduction on the "why" – at the bottom are a number of links on various topics
Practical Tips for a Healthy Marriage
How to Create Healthy Relationships
Assertiveness Quiz
Relationship Quiz – are you in an unhealthy relationship?