The Arkansas Conference of the United Methodist Church cares about the health and wellness of its clergy and members:
THE 7th VISION INITIATIVE:
"To emphasize the importance of self-care for clergy, staff, and laity and to facilitate intentional health ministries for body, mind, and spirit in and through our churches."
Want to know more?
BEGIN HERE!



Want to find available resources for making positive health changes, and for building or expanding health ministries in your local church? HolyHealthyUMC provides information and resources for:
Congregations

Clergy, Clergy Family or Church Staff Members

Individuals


Healthy "Changes" is your individual resource for understanding and improving your "total health":
Mental/Emotional

Social

Spiritual

Physical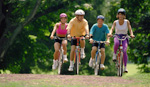 Click below for direct access to the Healthy Changes Action Tools:

HolyHealthyUMC needs your help to make this resource a more effective tool for better health and wellness. Click to:
Assess/Add resources

Share your success story

UM Health Professionals